Customer Reviews

These former Marines and corpsmen served with Lt. Norman Lane in Vietnam, 3rd Battalion, 4th Marines, 1967-1968. They are, from left: Capt. Ned LeRoy, CO, Kilo Company, Lt. Brad Place, Platoon Commander and XO, Kilo Company, Lt. Bill Willett, CO, H&S Company, and Platoon Commander, Mike Company, and HM3 Ron Smith, Corpsman, Kilo and H&S companies.
Harry Gorden, April 10 (Five-star review on Amazon.com)
"Vietnam history buffs or fans of small town Americana"
A profile of just one of the +58,000 American soldiers killed in Vietnam, but reflects the backdrop of the turbulent 1960's, the impact of just one loss with the spiritual, literary, historical and emotional effects on a town, friends and family. Meticulously researched, the reader will journey through not just the facts of this difficult conflict and era but will gain a new perspective of war and a family's sacrifice. An important work of significance.
Amazon Customer, April 10 (Five-star review on Amazon.com)
"A very good read everyone will love"
This is one of, if not, the best books that I have ever read. Very informative about growing up in a small Tennessee town. His family that lost members in World War II. Summers spent there going to Tabernacle Camp Meetings, going to Vanderbilt Law School, teaching in Haywood County High School, leading a Combat Platoon in Viet-Nam during some of the worst times, the years of 1967 and 1968. The Author covers the major battles in first hand reports of the men who were there with 3rd Battalion 4th Marines, a very in depth look from interviews with these men. 1st Lt Norman Lane was a very all-around great guy as the author covers during his short life. Loved by his students and the men who served under his command and anyone who ever spent any time with him . . . I did not want to put this book down and you won't either. I have since ordered two more for family and friends.
David Garland, April 13 (Five-star review on Amazon.com)
"Outstanding, excellent"
A Time Past, or What Might Have Been...The Odyssey of Norman Lane is nothing short of spectacular. This book details the life and adventures of Norman E. Lane, Jr., from his birth in Knoxville, Tennessee to his death in Vietnam. Mr. Claiborne has masterfully interspersed much information about the times, events and personalities in the surrounding world thereby allowing us to see how Mr. Lane may have been influenced in his life choices. I knew Mr. Lane well and was fortunate to have been one of his students. I can attest to the accuracy of the information presented by Mr. Claiborne. I recommend this book to lovers of true life adventure stories. You won't be disappointed.
Phil Frigm, April 22 (Five-star review on Amazon.com)
"A remarkable story of a fallen comrade!"
Al, I just finished "A Time Past..." What a remarkable read! Thank you! Thank you for putting that time frame of my life into such a detailed perspective. (I think I told you in Chicago in 2019 that I have a very limited recollection of my time in Vietnam.) Norman's story brought back a sense of pride for my service with 3/4. The last hundred or so pages of the book were marvelous. Thank you, Al
Bob Healing, April 24 (Five-star review on Amazon.com)
"An extraordinary testament to an extraordinary life."
This truly exceptional book provides a thoroughly researched, scholarly - - yet profoundly human - - insight into the life of an extraordinary individual, Norman Lane. It is, in short, a literary monument to an exceptional young man. Norman attended Vanderbilt University and law school. He and I completed Marine Officer training in Quantico, Virginia together and were sent to Vietnam in late 1967. We both served in Marine artillery units located just below the DMZ, well within range of North Vietnamese artillery. Sadly, on March 29, 1968, Norman was killed by an NVA mortar round. This book is the result of an eight-year effort by Professor Al Claiborne, a relative of Norman's, to elegantly chronicle his short life. But it is much more than a chronicle. It includes an extensive collection of correspondence Norman had with many friends (mostly female) who knew him before and during his years in the Marine Corps. Letters which show the incredibly wide breadth of Norman's knowledge and feelings. His last letter included an all too prescient premonition of his death. In that undated letter, he told a friend that he "had a peculiar sense of impending doom". Claiborne also enriches the narrative with pertinent excerpts from Plutarch and Pascal to Shakespeare, T.S. Eliot and lyrics by Paul Simon. It is a great read.
Becky Thornton, April 26
Of course the reason I love those final chapters is that they are personal and I knew all the local people in Norman's life. I could go on more about his literary skills and the beauty of his own writing, but those chapters touched me. He was a complete human being with more bravery than most of us and more to lose.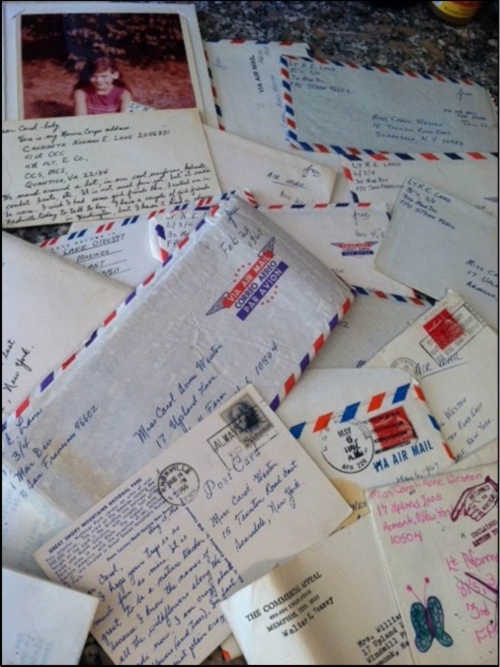 Carol's letters from
Norman Lane, 2014
Carol Weston
, author of
Speed of Life
and advice columnist at
Girls' Life
, May 23
When I was ten, I fell a little bit in love with my kind, funny, and brilliant camp counselor, Norman Lane. He joined the Marines and we became pen pals. Norman answered all my many letters, once describing spiders in foxholes and the "pweeng of bullets" and the "thhhump of bombs." In the winter of 1968, he wrote, "The war isn't going real well. Things could be worse though." When I was in sixth grade, one of my letters came back "Unclaimed." My mother learned that Lieutenant Lane, age 27, had been killed in action in South Vietnam. A TIME PAST, OR WHAT MIGHT HAVE BEEN… chronicles Norman's too-short life and is both illuminating and heart-breaking. Professor Al Claiborne has written a wonderful biography that shines a bright light on a dark and devastating time in our shared history.
Bill and Joan Willett, June 2
We have long been anticipating the publication of Al Claiborne's book, A Time Past. It is a scholarly, yet intensely personal account of the journey of his cousin, Norman Lane, who was KIA in Vietnam some fifty years ago. Reading the book makes it seem like yesterday.
We view the story as being told through a mix of camera lenses. Beginning with a soft-focus lens, the reader has a poignant glimpse into life in small-town America. We meet the families of Brownsville, Tennessee, and witness the sacrifices of the "Greatest Generation." Using a telephoto lens, the story then focuses on Lieutenant Lane. Through his letters home, we come to know his thoughts and goals in a very personal, and at times, haunting way. Concurrently, the author will adjust the lens, and we are "zoomed out " to meet the men of 3/4 - the Marines, who along with Norman, were stationed along the DMZ in 1967-68. I am proud to have been one of those Marines.
By way of meticulous research, including eyewitness accounts, the brutal battles of those years come alive. Finally, as the flag-draped casket carrying the body of Lieutenant Lane is brought home, the scope of the story is broadened with an historical wide-angle lens. The events of the tumultuous 1960s become part of Norman's story, and ours.
Professor Claiborne flawlessly weaves these different camera views together so that no gap remains. Maps and photographs from Vietnam contribute to the fine quality of the publication. A Time Past is a compelling, complete, and powerful work.
George, June 26 (Five-star review on Amazon.com)
"Well deserving of it's 5 stars…."
A book that skillfully weaves a story of a very special young man born in the 40's and growing up in the 50's and 60's during the enormous changes that America was going through or about to go through. The joining of the events of Norman Lane's life, and untimely death, with these events, is like four or five stories running concurrently with Norman's story.
The skill of the author to balance and keep these stories working together is the reason that this book is such a wonderful read.
At 699 pages, this book may appear to be a lengthy read, but it never loses it's interest. The depth and texture of the writing along with the fascinating integration of history, poetry, music, war, love and family will make you want to read it again.
Mark Weston, July 5 (Five-star review on Amazon.com)
"So moving"
So moving. A vivid and engaging portrait of Norman Lane, a loving and well-read man in his twenties whose life was cut short in Vietnam. This book really conveys the tragedy and senseless waste of war, and the loss to the world of this wonderful man.